The Bathrobe is not a new invention. Bathrobes are made up of the same material as a towel. There are varieties of material found in markets. Pure cotton as name said material is made up of 100% cotton, these cotton towels are super comfortable and count as luxurious hooded towel usually these towel use for spa and people prefer to use cotton towel on daily basis but the drawback of cotton towel is it get super heavy when it is wet so cotton towel is not travel friendly. But cotton bathrobes are super cozy and comfortable.
Bamboo is a kind of towel which is crafted by bamboo, bamboo towels are crafted by 100% pure bamboo. Bamboo material is similar to cotton but the feel is a bit different. Bamboo is purely and absolutely pest free and bacteria free. Bamboo towel is appealing in terms of quality. The most important thing about bamboo material is colors blend so well in it which gives finish look.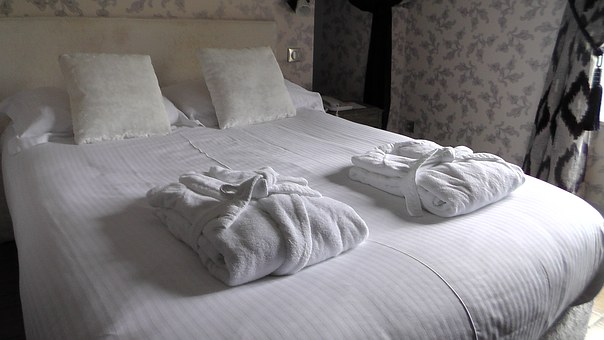 Turkish cotton and Egyptian cotton, these two materials are super expensive both have extra long fiber which is stronger than any other material. Egyptian cotton towels are known for their absorbency, it absorbs water in a single go you don't need to rub it again and again. So does the Turkish cotton it works same as Egyptian and quality are also the same. Turkish cotton is grown outside the city of Denizli in turkey which is famous for its towel and robes. The best thing about Turkish cotton is it gets soft after every wash. Egyptian towels are extremely absorbent. Egyptian and Turkish towels are expensive but it is a onetime purchase because of its quality they both are everlasting.
Microfiber bath towel, this type of towel is not that old as compare to others but microfiber towel succeeds in gaining much attention from the customers in the last few decades. Microfiber bath towels includes in luxurious towel. The best thing about this material is it doesn't get stiff like cotton ones. Microfiber bath towel is travel friendly because it has lightweight even after getting wet it stay light weight as compare to other materials. Microfiber bath towel are more efficient it soaks more water than others and gets dry quickly as compared to cotton. Most the athletes prefer Microfiber bath towel because of the quality and weight because they need to carry their towels everywhere so they give preference to Microfiber towels.
Beach robes is an Australian based company who makes kids bathrobes, which they can use on beaches easily. And the specialty of the robes is that they are hooded robes which cover kids head and keep them safe. The best thing about the robes is that they are not heavily weighted. Kids can easily carry them even after they get wet.